Simultaneous interpretation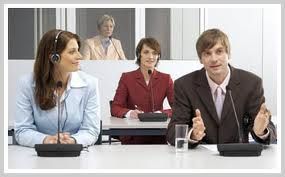 Simultaneous interpretation is a demanding, highly skilled craft which is used for communicating in multiple languages. This technique is used in sales meetings, industry conferences, training seminars, site-tours or government settings, always where the prime concern is "effective"communication.

Our interpreters, seated in sound reduction booths, listen to the presentation and simultaneously interpret into their target language. For multiple language scenarios we utilize one booth per language. Each booth's signal is routed to the appropriate transmitter and is received by participants using individual receivers and headsets. The systems we use are completely wireless. There is no interlacing of wires and no seating restrictions.

Our simultaneous interpretation services allow you to have your message heard in conferences, meetings, international seminars and other venues. Our simultaneous interpreters are skilled and experienced in listening to a message delivered in one language and interpreting the message in real time, making international communication possible in any setting. Our conference interpreters work in pairs using state of the art simultaneous interpretation equipment to ensure the success of your event.